Why are qualitative assessments and quantitative data combined?
To operationalize and measure the concepts described in the
Mission Statement
, the SGI relies on a combination of qualitative assessments by country experts and quantitative data drawn from official sources. Neither of them is epistemologically superior to the other nor can they fully substitute for each other. Both types of observations have specific strengths: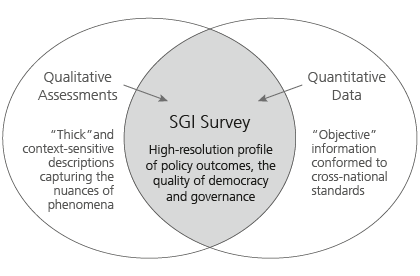 How is the subjective bias confronted?
The assessments of the SGI's
Expert Network
- inherently subjective - undergo a six-stage peer review within a concise framework. This thorough process ensures the validity and reliability of expert assessments.
How does the survey process work?
The first country expert writes a draft country report and provides scores on a scale from 1-10. His or her work is based on the
Questionnaire
.
The second expert reviews this report, making comments and providing alternative and complementary content. He or she also provides scores independently of the first expert.
The
Coordinator
mediates between the two experts, ensuring a balanced report. Drawing on his or her regional expertise and the experts' scores, the coordinator then provides his own scores.
Sector experts review the report and scores provided; point to remaining inconsistencies or gaps and give advice on how to remedy them (in consultation with the experts).
The eight coordinators meet to inter-regionally calibrate assessments. Each coordinator is required to explain, defend, and if necessary, recalibrate his assessments and scores.
The
Advisory Board
, comprised of renowned scholars and practitioners, discusses and approves the final scores.
The reports are subjected to a rigorous editing process, in form and content. Questions that arise are checked with the coordinators and experts. Final reports are published at sgi-network.org.
How are scores weighted and aggregated?
How is the SGI country sample composed?